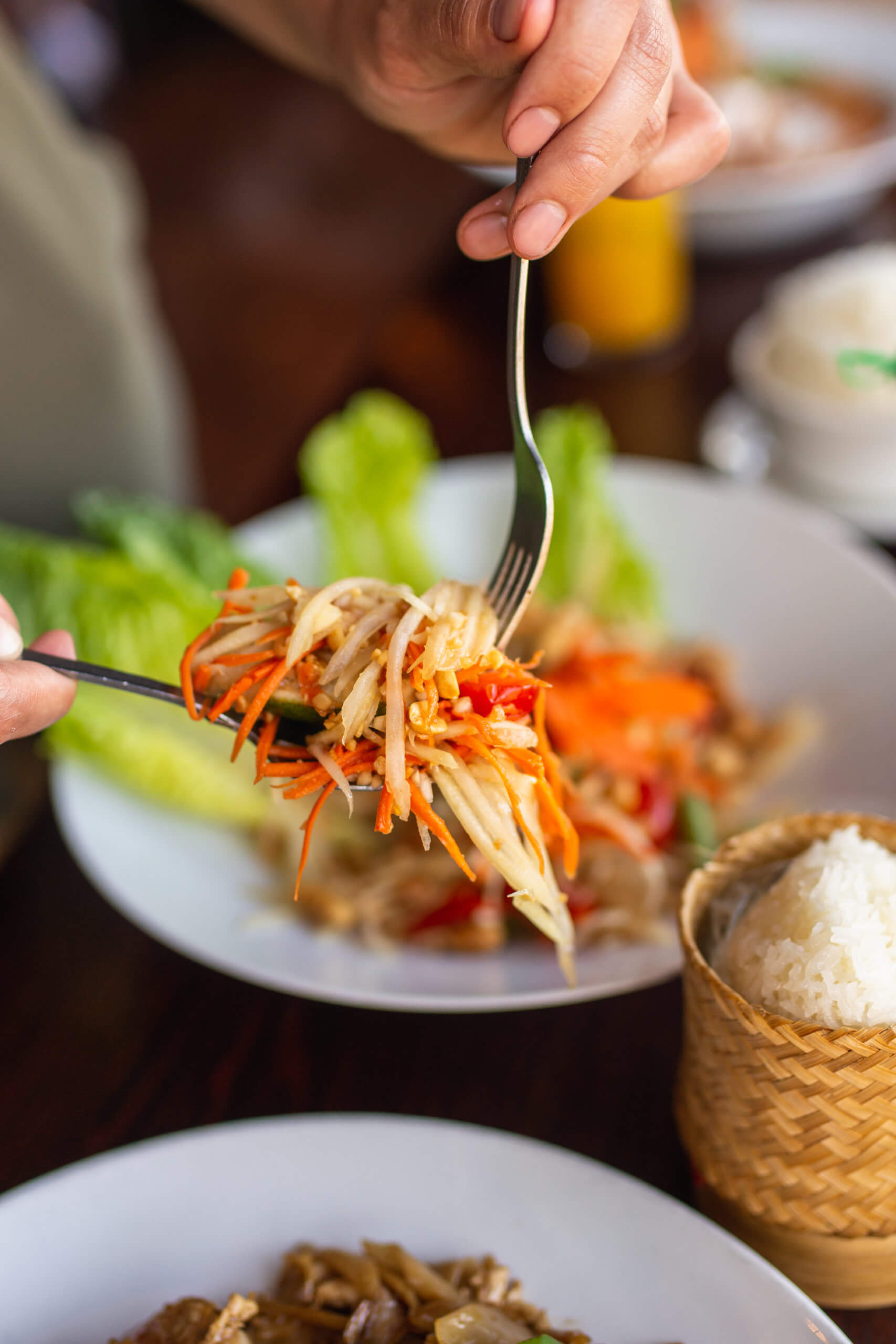 More About
Our Menu
Truly authentic Thai food and Asian cuisine on an extensive menu. Dine in or take out, consider joining us for lunch, dinner or our daily happy hours.
Tastefully decorated, our restaurant is perfect for romantic evenings or a business lunches. With the MAX at our doorstep, we're a convenient stop for everyone!
Panang Beef Curry
(Our Famous Signature Dish)
Slow simmered beef in Panang Curry with coconut milk until fork tender
then add green beans
bell peppers
and finely chopped kaffir lime leaves
21.95
Spicy Basil Chicken with Green Bean & Fried Egg
Crispy fresh green bean sauteed with chicken
onion
bell pepper
Thai Basil
mushroom
topped with fried egg
18.25
Lemongrass Chicken
Boneless chicken white meat marinated in garlic
soy sauce
lemongrass and lime leave
Topped with Siam peanut sauce
served with broccoli
18.25
Princess of Curry
Stir-fried green curry with chicken
Thai eggplant
peas
bamboo shoot
bell pepper
kaffir lime leaves
sweet basil leaves
and a touch of coconut milk
18.95
Dancing String Beans
Crispy fresh green beans sauteed with crunchy fried boneless chicken breast chunks
freshly chopped garlic and bell pepper in our flavorful garlic sauce
19.95
Seafood Curry in Young Coconut
The mixture combo of salmon fillet
scallops
mussel clams
prawns
calamari
Simmered in Siam's recipe red curry with basil
bell pepper
Served in a young coconut shell
25
Mango Paradise
fresh yellow mango and prawns sauteed with sweet chili paste
bell pepper
19.95
Tom Kha Noodle Soup with Chicken
A traditional rice noodle in Tom Kha broth with onion
mushrooms
tomatoes & top with cilantro
16.50
Crazy shrimps
Quick poached shrimps tossed with spicy lime vinaigrette.
15.25
Yum Eggplant
Grilled eggplant tossed with chopped chicken breast
shrimp
fresh lime juice
chili
vinaigrette
cilantro
red onion
mint and sweet basil leaves
17.50
Yum Woon Sen
A healthy and low calories salad
glass noodle
ground chicken
calamari and shrimp tossed in lime vinaigrette
cilantro
celery
scallion
shallot
red onion
Thai chili
tomatoes and roasted peanut
17.50
Yum Asparagus
A famous authentic Thai salad
steamed asparagus
poached prawns and ground chicken flavored in coconut mik and tamarind based dressing
lime juice
kaffir lime leaves
shallot
cilantro
red onion
peanut
and roasted coconut
18.50
Salmon Mango Salad
Lightly fried salmon fillet tossed with mango
lime vinaigrette
cilantro
mint
shallot
red cabbage
red onion
carrot
18.00
Seafood Salad
Poached prawns
scallops
calamari
mussel
tossed with spring mix salad
lime vinaigrette
cilantro
mint
shallot
tomatoes
red onion and basil
18.95
Beef Salad
Grilled tender beef flavored with lime vinaigrette
chili flake
cilantro
shallot
cucumber
tomatoes
mint
red onion & sweet basil leaves
served over spring mix salad
17.95
Tom Kha
A Thai coconut milk based soup with mushrooms
lemongrass
galangal. root
kaffir lime leaf
onion
cilantro & Thai chili paste
Bangkok Beef Noodle
Stir-fried beef with onion
tomatoes
light gravy sauce
served over pan-fried wide rice noodle and egg
14.95
Green Curry Fried Rice
Stir Fried rice with chicken
Shrimp
green curry paste
mixed veggies
bamboo shoots
sweet basil leaves
14.95
Tom Yum Noodle Soup
Rice noodle in sweet & sour Tom Yum broth with ground chicken
prawns
calamari
crushed peanut
fresh lime juice
bean sprout
cilantro and scallion
14.95
Noodle Delight
Stir-fried rice noodle with carrot
zucchini
celery
cabbage
bamboo shoot
broccoli
mushroom
served with house peanut sauce
Pad See Ew
A kid's favorite wide rice noodle stir-fried with egg
sweet soy sauce and broccoli
Pad Thai
A traditional rice noodle stir-fried with egg
bean sprout
served with crushed peanut
Massamun Curry
Massamun curry is Muslim inspired from Southern Thailand
Peanut curry slowly cooked with coconut milk
yellow onion
potatoes
roasted peanuts
Classic Yellow Curry
the most spices yellow curry combined with coconut milk
yellow onion
potatoes
Famous Red Curry
A hearty red curry simmered with coconut milk
bamboo shoots
bell pepper
sweet basil leaves
Buddha Feast
Sauteed fresh broccoli
carrot
cabbage
mushroom
bell pepper
baby corn
zucchini in garlic sauce
Chinese Broccoli
Sauteed with garlic sauce
Siam Lotus Delight
sauteed with fresh zucchini
green beans
bell peppers
sweet basil leave in red curry sauce
Royal Sweet & Sour
Sauteed pineapple
tomatoes
bell pepper
celery
carrot
onions
in sweet & sour sauce
Ginger Garden
Sauteed garlic
ginger
onions
bell pepper
celery
black mushroom
and mushrooms in ginger sauce
Emerald Garlic
Sauteed with garlic and pepper sauce on a bed of steamed broccoli
Holy Basil
Sauteed with onions
bell peppers
mushroom and sweet basil leaves
Panang Beef Curry
(Our Famous Signature Dish)
Slow simmered beef in Panang Curry with coconut milk until fork tender
then add green beans
bell peppers
and finely chopped kaffir lime leaves
21.95
Spicy Basil Chicken with Green Bean & Fried Egg
Crispy fresh green bean sauteed with chicken
onion
bell pepper
Thai Basil
mushroom
topped with fried egg
18.25
Lemongrass Chicken
Boneless chicken white meat marinated in garlic
soy sauce
lemongrass and lime leave
Topped with Siam peanut sauce
served with broccoli
18.25
Princess of Curry
Stir-fried green curry with chicken
Thai eggplant
peas
bamboo shoot
bell pepper
kaffir lime leaves
sweet basil leaves
and a touch of coconut milk
18.95
Dancing String Beans
Crispy fresh green beans sauteed with crunchy fried boneless chicken breast chunks
freshly chopped garlic and bell pepper in our flavorful garlic sauce
19.95
Seafood Curry in Young Coconut
The mixture combo of salmon fillet
scallops
mussel clams
prawns
calamari
Simmered in Siam's recipe red curry with basil
bell pepper
Served in a young coconut shell
25
Mango Paradise
fresh yellow mango and prawns sauteed with sweet chili paste
bell pepper
19.95
Crab Fried Rice
Stir-fried jasmine rice with crab meat
egg
cashew nut
carrot
pea
onion
curry powder
22.00
Tropical Fried Rice
A favorite. Jasmine rice stir-fried with onion
raisins
egg
pineapple
carrot
cashew nut
peas
curry powder
House Fried Rice
A favorite. Jasmine rice stir-fried with onion
carrot
bell pepper
cashew nut and sweet chili paste
Holy Basil Fried Rice
One of the most popular street foods in Thailand;/ Stir=fried jasmine rice with mushrooms
bell pepper
egg
onion and sweet basil leaves
Classic Fried Rice
A classic Jasmine rice stir-fried with egg
tomatoes
onions
Chinese broccoli
House Curry (Red & Peanut Butter Curry)
a new creation of red curry and peanut butter combined with coconut milk
carrot
broccoli
bell pepper
Panang Curry
A rich panang curry combined with coconut milk
bell pepper
then sprinkled with finely chopped kaffir lime leaves
Massamun Curry
Massamun curry is Muslim inspired from Southern Thailand
Peanut curry slowly cooked with coconut milk
yellow onion
potatoes
roasted peanuts
Green Curry
The flavorful curry simmered with coconut milk
bamboo shoots
bell pepper
green pea
sweet basil leaves
Classic Yellow Curry
The most variety of spices combined with coconut milk
yellow onion
potatoes
Famous Red Curry
A hearty red curry simmered with coconut milk
bamboo shoots
bell pepper
sweet basil leaves
Siam Lotus Delight
Sauteed with fresh zucchini
green beans
bell peppers and sweet basil leave in red curry sauce
Summer Fire
Sauteed with bell peppers
krachai herb
bamboo shoots and green beans in red curry paste
Angel Eggplant
Lightly fried eggpland with bell peppers
onion
sweet basil leave
garlic
and house seasoning sauce
Prikkhing Prince
Sauteed fresh green bean and bell pepper with Prikkhing paste and finely sliced kaffir lime leave
Royal Sweet & Sour
Sauteed Pineapple
tomatoes
bell pepper
celery
carrot and onions in sweet & sour sauce
Ginger Garden
Sauteed garlic
ginger
onions
bell pepper
celery and black mushroom
mushroom in ginger sauce
Emerald Garlic
Sauteed with garlic and pepper sauce on the bed of steamed broccoli
Holy Basil
Sauteed with onions
bell peppers
mushroom and sweet basil leaves
Golden Cashew
Sauteed with cashew nut
onions
carrots
water chestnut
celery
bell peppers and sweet chili paste
Pad Woon Sen
Stir-fried cellophane noodles with egg
carrots
celery
mushroom
onion
bell pepper
served with Jasmine rice
Holy Basil Noodle
Stir-fried rice noodle with green beans
bell pepper
garlic and crispy basil leaves
Bankok Beef Noodle
Stir-fried ground beef with onion
tomatoes in light gravy sauce
served over pan-fried wide rice noodle with egg and fried rice
18.50
Boat Noodle Soup
A traditional beef rice noodle in savory broth with beef stew
braised sliced beef
meatball
pork rind
bean sprout
chinese broccoli
celery
sweet basil leaves
scallion
roasted garlic oil and white pepper
16.75
Hot Spicy Noodle
Stir-fried wide rice noodle with egg
mushrooms
broccoli
carrots
bell pepper
zucchini
onion
celery and red curry paste
Tom Yum Noodle Soup
Rice noodle in sweet & sour Tom Yum broth with ground chicken
prawns
calamari
crushed peanut
fresh lime juice
bean sprout
cilantro and scallion
16.75
Noodle Delight
Stir-fried rice noodle with carrot
zucchini
celery
cabbage
bamboo shoot
broccoli and mushroom
served with house peanut sauce
Rard Nah
Pan-fried wide rice noodle with sweet soy sauce served with broccoli and gravy sauce
Pad Kee Mao
Fresh wide rice noodle stir-fried with egg
onion
bell pepper
tomatoes
bamboo shoot and sweet basil leave
Pad See Ew
A kid's favorite wide rice noodle stir-fried with egg
sweet soy sauce and broccoli
Pad Thai
A traditional rice noodle stir-fried with egg
bean sprout
served with crushed peanut
Pad Ped Catfish
Lightly breaded catfish fillet
pan-fried with fresh breen bean
red curry sauce & finely chopped kaffir lime leaf
21.95
Holy Basil Crispy Pork Belly
Homemade crispy pork belly sautéd with onion
mushroom
bell pepper
sweet basil leave
19.95
Crispy Pork Belly Chinese Broccoli
Homemade crispy pork belly sautéd with Chinese broccoli and garlic sauce
19.95
Southern Herbal Rice
A mixture of cultures and tastes. Southern Thailand seasoning curried and rice. served with cucumber and tomatoes and spicy dipping sauce
18.95
Chicken Miang
Shredded coconut
onions
gingers
poached chicken
lime wedges and roasted peanut with lime vinaigrette & coconut sweet chute style sauce. served with green and red lettuce
16.95
Chiang Mai Curry (Khao Soy)
Northern Thailand style curry with chicken
egg noodle
served with pickled green mustard
a lime wedge and red onion
16.95
Larb Gai
Hand chopped chicken breast tossed with fresh lime juice
chili pepper
vinaigrette
cilantro
scallion
mint and roasted ground rice
16.95
Papaya Salad
green papaya
green bean
tomatoes
carrot garlIc
chili
fish sauce
palm sugar
lime juice Or Lao Style: Add fermented anchovy sauce
14.95